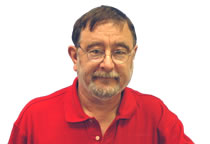 CONTACT US
4Duck.com
Duck Engineering, Inc.
3309 Genessee St.
Kansas City, MO 64111-3758
USA
PRINCIPALS:
Contact: Dori Wallace, President
E-mail: Dori@4Duck.com

Contact: Drake L. Koch, Product Developer
E-mail: Drake@4Duck.com

Phone: 816-756-3825
Web Site: http://www.4Duck.com

Office Hours: 9:00 am to 5:00 pm (CST)
No voicemail, please give us a call.

---
WHO WE ARE
MANAGEMENT BIOGRAPHIES
DRAKE L. KOCH
Founder and Product Developer for Duck Engineering, Inc.
Drake has worked on an extensive range of projects for a variety of industries. His credits include sports trading cards, medical devices, car and bus bodies, furniture, kitchen gadgets and toys, including concepts and designs for Samsonite, 3M, P&G, M&M Mars, and Hallmark Cards.
Drake has a passion for inventing, with numerous utility and design patents. His internet mailbox design was a huge hit with the media, and was featured on the front page of the Wall Street Journal.
Drake previously founded Drake Design, Inc. which manufactured hundreds of different designs ranging from navy missile launchers, rescue trucks, and aircraft fuselages, to playground equipment.
Drake's approach to design aesthetics and manufacturing maximize client profitability.
He is a graduate of the Kansas City Art Institute with a BFA in Industrial Design, and is a member of the Society of Manufacturing Engineers.
DORI WALLACE
Co-founder and President of Duck Engineering, Inc.
Dori Wallace has over 15 years experience in the industrial design business, and previously managed a plastics molding company with over 40 employees. She has experience in computer graphics and design.
Dori's experience in manufacturing, design, and business contribute to our ability to fully meet our client's needs, from initial planning to final product.